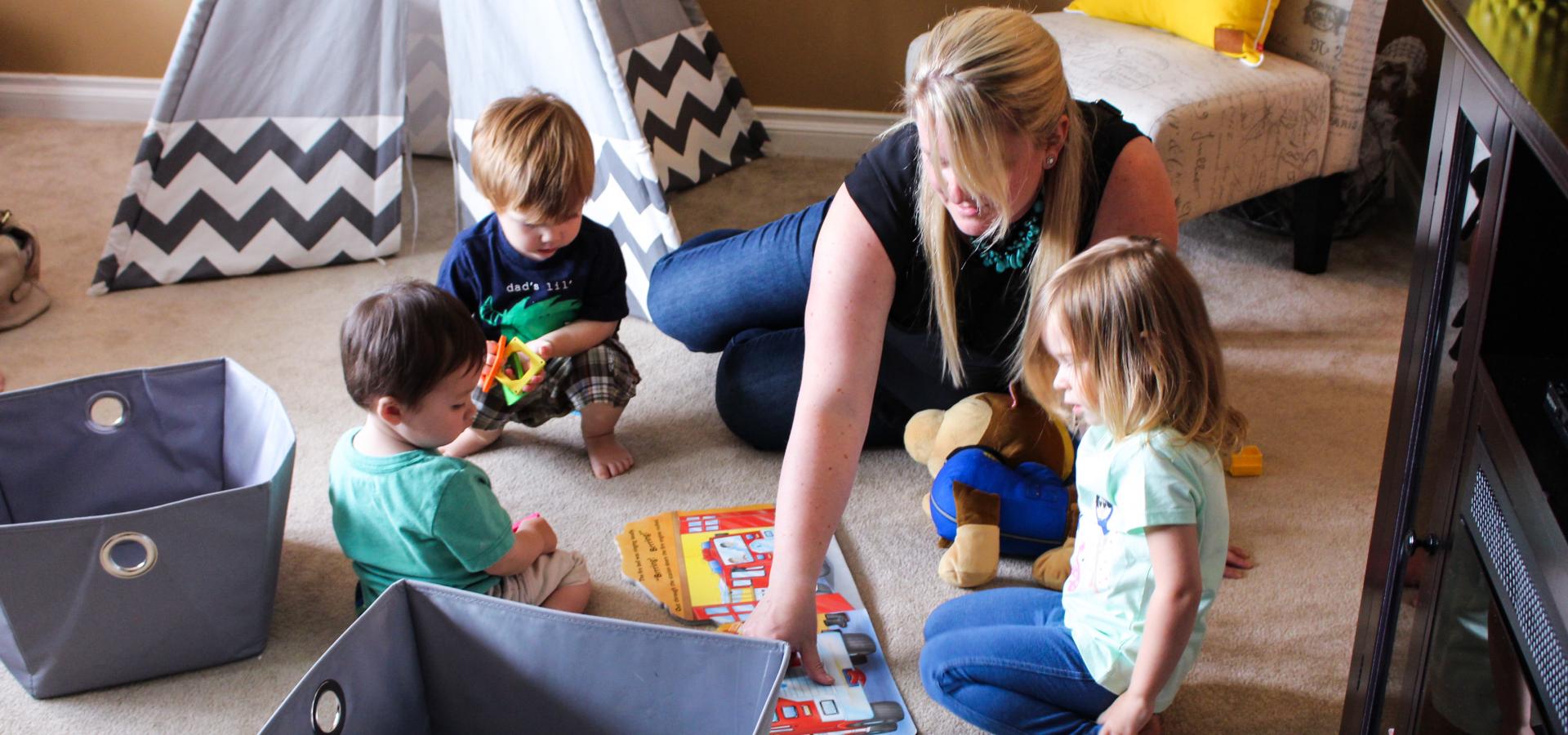 25 Years of Quality Licensed Home Child Care in Strathroy
Monday, May 16, 2022
In the early 1990s, the board of directors of the Middlesex Children's Resource Centre asked themselves how else they could best serve their community and its children, above and beyond the playgroups, workshops, lending library and resources they already offered. They quickly identified a gap in meeting the community's need for expanded child care options. 
Consistently in the county, families relied almost exclusively on relatives, friends, and informal caregivers, and licensed child care providers were not easily accessible. This need motivated the resource centre to open their first licensed home child care program in 1995, connecting local families with approved caregivers in their neighbourhood who would offer quality child care right from their own homes. 
It wasn't long before the demand for the home child care program multiplied, and in 1997 the program was taken on by Community Home Child Care, a well-established home child care program of London Children's Connection. Despite the modest office space on Frank Street, this made for an exciting expansion into Strathroy, and the county at large.
Unlike a child care centre, home child care didn't require constructing a building or staffing, and instead child care could be offered within an existing and comfortable home-based environment. The highly thoughtful and meticulous policies, procedures, and adherence to the Ministry of Education requirements allowed home child care providers to open their safe and nurturing home child care business quickly and efficiently.
Throughout the years, the approved home child care providers have not only helped to serve the community need for child care, but they have also benefited from the opportunity to earn an income from home, with the guidance, instruction, and continuous support from the whole Community Home Child Care team. This relationship has allowed them to offer licensed care that confidently boasts the health, well-being, early learning, and growth of all children in care.
This model of child care offers families flexibility, and versatility, and access to subsidized fee support for families that qualify. Perhaps most importantly, this model of care allows families access to licensed child care that would not otherwise be accessible for smaller communities throughout Middlesex County. 
Community Home Child Care is honoured and excited to be celebrating 25 years of providing child care in Strathroy and across Middlesex County. Despite the many challenges faced across all sectors during the past two years, Community Home Child Care has persevered, and looks forward to growth, welcoming both new families and home child providers. 
The need for child care is ever-present, and the team is actively seeking new home child care providers to meet the essential child care needs of the Strathroy community and beyond.
For more information about becoming a Provider, or finding child care in your neighborhood, visit Community Home Child Care online and get in touch with Becky, the Home Child Care Coordinator for Strathroy and area.
Becky Longhurst
Home Child Care Coordinator – Middlesex County
519-245-9229
rebecca [at] lcc.on.ca
www.lcc.on.ca/chcc